Narrator: Sunday, March 28th 2021, Tampa, Florida, USA
Nathan Joseph Wallace: I'm Back. My Mission: to warn the Human Race there are Culprits among you. i have detailed files.
WrestleMania 37: The Buccaneer Bowl is the upcoming 37th annual WrestleMania professional wrestling pay-per-view and WWE Network event produced by WWE for their Raw and SmackDown brands. It will take place on March 28, 2021 in 3 locations
this WrestleMania will be Part 1 of WrestleMania's 3-Part Re-Energized Series arc as the Conclusion of the series will be in the Successor Year 2022 at WrestleMania 38: Fifty Shades of Impact! and WrestleMania 39: the Rise of the Elite
Background
[
]
WrestleMania is considered WWE's flagship event, having first been held in 1985. It is the longest-running professional wrestling event in history and is held annually between mid-March to mid-April.[4] It was the first of WWE's original four pay-per-views, which includes Royal Rumble, SummerSlam, and Survivor Series, dubbed the "Big Four".[5] WrestleMania is ranked the sixth most valuable sports brand in the world by Forbes,[6] and has been described as the Super Bowl of sports entertainment.[7]
story lines
[
]
The event will include matches that result from scripted storylines, where wrestlers portray heroes, villains, or less distinguishable characters in scripted events that build tension and culminate in a wrestling match or series of matches. Results are predetermined by WWE's writers on the Raw and SmackDown brands, while storylines are produced on WWE's weekly television shows, Monday Night Raw and Friday Night SmackDown.
Main Feuds
[
]
JUDGMENT DAY: the No Holds Barred Serious Main Event: Rowdy Ronda Rousey vs Bret the Hitman Hart for the GFW Global Championship!
[
]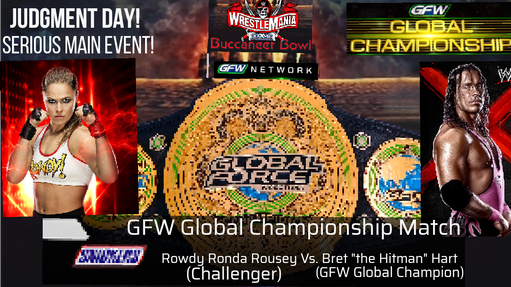 Fedor Emelianenko won the 2020 Chaos World Championship Tournament by defeating Charlotte Flair in the Finals at GFW Amped Final Conflict 2020 which made him the 3rd holder of the WrestleMania Main Event Title Match Challenge Rights Certificate. Just then as he was handed the briefcase, Impact Global Champion Eli Drake of Bound for Glory 2017 (Ottawa, Canada) interrupted Fedor to tell the AlamoDome crowd that Impact Wrestling has finally arrived on Nathan's GFW and told the people how he 'regained' the Global title from Austin Aires. Fedor took the microphone and declared that he will challenge Eli Drake at WrestleMania 37 for Drake's Impact Global Championship even if it means putting up his PRIDE World Heavyweight Championship, making this a Winner-Take-All Title Vs. Title match. Until it was revealed by George Washington Duke that Fedor was not the Pride FC World Heavyweight Champion and Stipe Miosic is the current Pride FC World Heavyweight Champion thus he inserted Tommy "the Machine" Gunn as the next challenger for the belt. On February 6th 2021, 10:04 pm est at X-plosion 2021 day 2 at the Pizza-rific in Mortville, after a somewhat short and non-spectacular serious main event, Tommy Gunn defeated Miosic by KO in the 1st round with no difficulty or struggle and with relative ease, winning the PRIDE Belt thus becoming the New Champion. but the crowd rejected him praising Nathan Wallace with the chant of "Nathan Boom-Ba-Ye!" instead. As Tommy Gunn did not thank Nathan or his Idol and former Mentor Rocky Balboa in the post-fight interview and did not fight with the Heart, Fire and Passion that Rocky or Nathan did, as he was criticized by the media for that. Bret the Hitman Hart would eventually set his sights on the Eli Drake and the Global title, and the two agreed to a match at the Royal Rumble in January 1991. Ronda Rousey's rivalry with Bret Hart began on July 4 at the Moose Bodyslam Challenge on the St. Thomas Cruiseliner. After several wrestlers and other athletes attempted to body slam Moose, Rousey arrived in a helicopter. He was able to body slam Moose which led to a title shot against Bret Hart at WrestleMania. however at AEW Beach Break, Bret the Hitman Hart defeated Shinsuke Nakamura and Eli Drake in a Triple Threat Match to win the GFW Global Championship. On the same night Rowdy Ronda Rousey defeated Maryse Mizanin by Submission. Later Bret berated Ronda for turning a blind eye into Bret's Legacy and criticized Ronda for the lack of dignity, poise and prestige while she was Raw Women's Champion and called her a degenerate. In retaliation, Ronda proclaimed "any ring i step into is mine. I own the ground under my feet! I can go rouge whatever i want! Damn the Hitman! Screw the Best there is, the Best there was and the Best there ever will be! And no more mrs. Nice woman! I am done pretending! I am no longer here to entertain you! I've been knocking down doors in Judo in UFC, and i'm once again in the Main Event of WrestleMania and gonna tap out Bret the Hitman Hart at WrestleMania XXXVII! You're welcome." on February 27th at the SuperClash at the Cadillac Ranch at the conclusion of a 12-person Tag Team main event between "the MuderHawk Monster" Lance Archer, PAC, Pentagon Jr, Rey Fenix and the Balance of Chaos Vs. Butcher and Blade, Eddie Kingston, Pete Dunne, Danny Birch and Oney Lorchan, Ronda Rousey came through the crowd and in to the Ring and attacked the Bunny, which brought out Global Champion, Bret Hart. Hart stared down Rousey for a minute until Hart attacked Eddie Kingston and put him in the Sharpshooter while Rousey applied the Arm-vice on Pete Dunne! To build support for Rousey, the GFW had him ride across the country in a bus named the Lex Express. General Adnan, Mr. Fuji and Jim Cornette, agreed to the match, but he made Ronda Rousey agree to two conditions. Rousey would not receive a rematch if she lost, and he had to wear protective tapping over her fists. During their feud, Miss Elizabeth, who was trying to get back into managing, was ordered by Jim Cornette, to be Bret Hart's manager against her wishes as well as both Bret and Rousey's. As a result, Rousey would hold Bret Hart and Jim Cornette responsible if any harm came to her. On the March 12 episode of Raw is War, Bret Hart was placed in an overlong Sharpshooter hold during his rematch with "the Rocket" Owen Hart. When Miss Elizabeth went to check on Bret, Owen also placed her into the Shapshooter hold. Ronda Rousey soon ran in to save her and knocked Owen out of the ring. Keeping to her word, he immediately gave Bret Hart an Arm-Vice Submission hold as punishment. The following week on Raw is War, during a handicap tag team match involving Bret Hart vs Vader, Patriot, Steve Blackman and TAFKA Goldust, Ronda Rousey made her way down to the ring and ended up getting put in the Sharpshooter from Bret Hart in response to the Arm-Vice from the previous week. On the March 29 episode of SmackDown!, Miss Elizabeth was relieved from her managerial role by Mr. McMahon after failing to prevent a brawl between Bret Hart and Ronda Rousey.
Triple Threat reversal of Royal Fortunes
[
]

Immediately following WrestleMania XXVII in April 2011, Edge, who at the time held the now-defunct Third Belt World Heavyweight Championship, was forced to retire and relinquish his title due to a severe neck injury; Edge was then inducted into the WWE Hall of Fame in 2012. After nine years and two neck surgeries, Edge made his return as a surprise entrant at the 2020 Royal Rumble, making it to the final three. The following year, Edge declared his participation for the 2021 Royal Rumble, vowing to win the men's Royal Rumble match so he could go to WrestleMania 37 and become a world champion again, as he had never lost his world title. At the event on January 31, Edge entered the match at number one and went on to win as a Raw wrestler and earned himself a world championship match of his choice at WrestleMania 37. Over the next week, Edge appeared on Raw, NXT, and SmackDown, confronting each brand's world champion, but stated he would wait until after Elimination Chamber to make his decision. After SmackDown's Universal Champion Roman Reigns retained his title against Daniel Bryan at the event, Edge appeared and performed a Spear on Reigns. He then pointed to the WrestleMania sign, indicating that Edge had chosen to challenge Reigns for the Universal Championship, which was later confirmed. This came after Reigns demanded Edge to choose him, and after Reigns attacked Edge with a Spear on the February 19 episode of SmackDown. However, Bryan also pursued Reigns for another championship match, mocking Reigns for defending the title against him immediately after Bryan had won SmackDown's Elimination Chamber match. At Fastlane, Bryan faced Reigns for the championship once again, with Edge acting as the special guest enforcer; Reigns won the match after Edge attacked both men with a steel chair. On the March 26 episode of SmackDown, WWE official Adam Pearce announced that Reigns would defend the Universal Championship against Bryan and Edge in a triple threat match at WrestleMania.
Who is the B-E-S-T in WWE?!
[
]

The Boss. The EST. The SmackDown Women's Title.
One of WrestleMania 37's marquee bouts has "show stealer" written all over it, as Sasha Banks will put her title on the line against Bianca Belair.
While it may be difficult to believe for those who witnessed her meteoric rise through the ranks, Banks is now a battle-tested veteran on the main roster and a Grand Slam Champion to boot, though her most recent title win was arguably her most impressive.
After being betrayed and brutalized by her former best friend Bayley, Banks shed a protective neck brace and immediately stepped straight into hell to challenge The Role Model for her championship in a Hell in a Cell Match. A savage fight ensued, but Banks earned the first SmackDown Women's Title of her career by using a chair-assisted Banks Statement to force a frantic tapout.
Belair caught the attention of the WWE Universe during her time at NXT and continued to do so when she made the jump to the blue brand.
Nevertheless, she was still seeking a true career-defining victory, and accomplishing the herculean feat of winning a Royal Rumble Match was made more daunting when she drew No. 3 for the 30-Superstar melee.
But you don't get a nickname like "The EST of WWE" if you're lacking in confidence, and Belair silenced the doubters by competing for 56-plus minutes, racking up four eliminations, joining forces with Rhea Ripley to toss Charlotte Flair, and finally eliminating The Nightmare after a pulse-pounding brawl in the bout's final moments.
After mulling her options for WrestleMania, Belair indeed challenged Banks on the Feb. 26 edition of SmackDown.
And while she has hovered around the title picture during her time on both NXT and SmackDown, Belair has yet to earn championship gold in WWE. Will she achieve her goal on The Grandest Stage of them All, or will Sasha continue to prove exactly why she is WWE's Blueprint?
Collision of Bohemian Titans III
[
]

At Elimination Chamber, Drew McIntyre won Raw's Elimination Chamber match to retain the WWE Championship. Following the match, however, McIntyre was brutally attacked by Bobby Lashley, allowing The Miz to cash-in his Money in the Bank contract and win the title. As part of an agreement that Miz made with Lashley's Hurt Business manager MVP, Miz was scheduled to defend the championship against Lashley, who defeated Miz in a Lumberjack match to win the title on the March 1 episode of Raw. On the March 15 episode, Lashley claimed that he destroyed McIntyre at Elimination Chamber and would do it again at WrestleMania 37, confirming that Lashley would defend the title against McIntyre at the event. McIntyre came out and congratulated Lashley on becoming champion, noting how they both had a long road to winning the WWE Championship—16 years for Lashley and 17 years for McIntyre. However, McIntyre mocked Lashley, as McIntyre first won the championship at WrestleMania 36 by defeating Brock Lesnar, whereas Lashley won the championship by making an underhanded deal and defeating Miz on an episode of Raw. McIntyre then declared that he would win back the championship at WrestleMania. The following week, McIntyre defeated The Hurt Business' Cedric Alexander and Shelton Benjamin in a handicap match, barring Alexander and Benjamin from ringside during the WWE Championship match at WrestleMania.
Nightmare vs Empress
[
]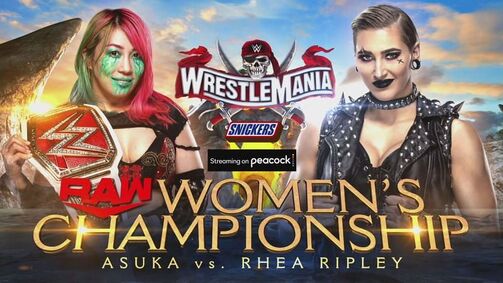 The Empress vs. The Nightmare on The Grandest Stage of Them All? Yes, please.
Following weeks of videos warning of her arrival to Monday nights, Rhea Ripley finally showed up on Raw to make a statement by challenging Asuka to a match for the Raw Women's Championship at WrestleMania.
Asuka's swift acceptance of the challenge sets the stage for an epic first-time matchup between two of the greatest champions in NXT history. The Empress has certainly racked up her fair share of accomplishments since her days on the black-and-yellow brand, but Ripley looks to win her very first Raw Women's Title, fittingly, at Raymond James Stadium in Tampa, where she was originally supposed to defend her NXT Women's Championship just one year ago against Charlotte Flair.
One question remains heading into this year's Show of Shows: Will Rhea Ripley be ready for Asuka?
Holy Makerel! there are 2 Bayleys!
[
]

Bayley '17 and Bay Lee Billionare had been feuding over the GFW World Women's Championship since the January 2, 1993, episode of GFW Driven. After Bay Lee Billionare's match on that show, he confronted Bay-Ley, who had thrown a snowball at a child in the audience. Bayley '17 grabbed Bay-Ley by the arm and warned her not to play any more pranks on children. Bay Lee Billionare, wearing a cast on the arm that she claimed Bay-Ley had supposedly injured by grabbing, came to ringside during Bayley '17's match on the January 18 episode of GFW Amped. She apologized to Bayley '17 and gave him a flower; when Bayley '17 walked away, Bay Lee Billionare removed a prosthetic arm from his cast and attacked Bayley '17, who was later taken away in an ambulance due to kayfabe (storyline) injuries. For storyline purposes, Crush was said to be too injured to compete in the Best of the Super Juniors Tournament. Bay-Lee continued his pranks by squirting Bay Lee Billionare with a water pistol and recording video messages to herself, which showed two Bayleys on the screen
Miz's Bunny Hunt
[
]

At the Royal Rumble, The Miz attempted to persuade rapper Bad Bunny, who had performed his song "Booker T" at the event, to a deal to become a WWE superstar under his tutelage; however, Bad Bunny rejected the offer. Later during the Royal Rumble match, as Miz made his entrance, he destroyed Bad Bunny's DJ equipment. An irate Bad Bunny came out and distracted Miz, allowing Damian Priest to eliminate him. The following night on Raw, Bad Bunny was a guest on "Miz TV." The Miz apologized for his actions at the Royal Rumble, which Bad Bunny accepted; however, Bad Bunny did not apologize for his own actions and then stated that one of his dreams was to become a WWE wrestler, which Miz claimed he could help him with as a mentor, however, Bad Bunny rejected the offer. Bad Bunny then stated the only reason he was there was because his "friend" wanted to be on Miz TV, prompting Priest to come out, making his Raw debut. Priest then attacked Miz and defeated him in a match. Over the next few weeks, Miz and his tag team partner John Morrison would continue to constantly taunt Bad Bunny. On the March 23 episode of Raw, Miz challenged Bad Bunny to a match at WrestleMania 37. Following Miz's match, Bad Bunny attacked Miz and accepted.
the K.Oing Conspiracy
[
]
Sami Zayn has battled against the conspiracies he feels have been plaguing his WWE career, but now the seemingly paranoid Superstar will have to face Kevin Owens at WrestleMania.
Zayn unsuccessfully attempted to reveal the "truth" to Owens, and a chaotic "KO Show" encounter paved the way for a showdown at The Show of Shows. Zayn believes him and his old friend could have ruled WWE, but at WrestleMania they will settle their long-simmering differences in the ring.
Will KO deliver another signature WrestleMania moment with a win? Or will Zayn's manic obsessions lead to big-stage brilliance?
Warrior vs Bro
[
]

Riddle's chill championship vibes have clashed with Sheamus' explosive anger on Monday Night Raw, and at WrestleMania, the two in-ring warriors will battle for the United States Championship.
A callous beatdown of The Original Bro with his own scooter signaled The Celtic Warrior's United States Title intentions, and a punishing victory over the champion on the following Raw made them even clearer. Sheamus is looking to become a three-time United States Champion, while Riddle looks to solidify his ascent on Raw by toppling one of its most accomplished Superstars.
Who will walk out of The Showcase of the Immortals with the United States Heavyweight Title?
the Great Tag Ladder War!
[
]
The match between Butcher, Blade and Bunny and Injustice received little buildup. Butcher and Blade were a successful tag team in All Elite Wrestling, and an interpromotional agreement allowed them to challenge for the GFW World Tag Team Championship in a four-way Ladder match, where the reigning champions Butcher and Blade were set to take on Christian Grey and Anastasia Grey, OvE (Jake Crist and Dave Crist) and Injustice (Myron Reed and Jordan Oliver). Christian and Ana earned their title shot on March 7 by defeating OvE to win the 2021 GFW Tag World Grand Prix Tournament. However, after the match both newly-reunited OvE and Injustice also laid their own claims on a title match with Butcher and Blade. OvE had eliminated the reigning GFW World Tag Team Champions from the tournament, while Injustice felt they deserved a Title match with Butcher and Blade, This led to GFW announcing a title match with all four teams in a Ladder Match on March 9.
Colossal Tag Mountain!
[
]

At WrestleMania, Raw Tag Team Champions The New Day will put their newly reclaimed titles on the line against AJ Styles and his own personal colossus, Omos.
Kofi Kingston & Xavier Woods reclaimed the Raw Tag Team Titles from the Hurt Business' Cedric Alexander & Shelton Benjamin on the March 15 edition of Monday Night Raw, only to be immediately interrupted by AJ Styles & Omos, who seized the moment and challenged the new titleholders to a title match at WrestleMania.
The highly decorated New Day are truly tag team royalty who can hold their own with any tandem on the planet. On the other side of the ring will stand The Phenomenal One, who has had some truly amazing WrestleMania moments. His partner Omos is a true tower of dominance but will be making his in-ring debut at The Show of Shows. And because his presence to this point has mostly been as a source of intimidation, he will truly be an X-factor of the high-stakes tag team titles showdown.
Out of the Frying pan and into the Highway to Hell
[
]

He has returned, and that's not good news for Randy Orton.
After The Viper sadistically set The Fiend on fire back at WWE TLC, there was no telling if The Fiend would ever be seen again. As Alexa Bliss slowly started to warn Orton of his inevitable return, it was only a matter of time before her premonitions would come to fruition.
At WWE Fastlane, The Fiend emerged from the wreckage of being burned, and after being summoned by Orton the following night on Raw, made his cruel intentions clear to finally settle this brutal score with The Legend Killer once and for all at WrestleMania.
Will Orton overcome The Fiend, who is seemingly more unstoppa

The Steel Cage Return to Mania
[
]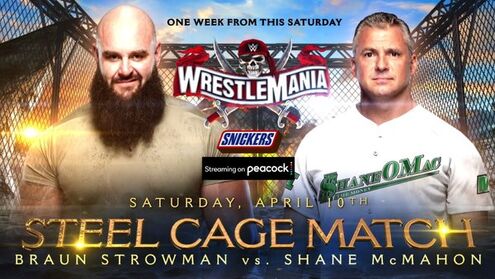 Incensed at being left out of Raw's Elimination Chamber match, Braun Strowman took issue with WWE officials Shane McMahon and Adam Pearce. After a failed attempt to rectify things with Strowman, Shane then began to insult Strowman's intelligence. Strowman then challenged Shane to a match on the March 15 episode of Raw. The match, however, never officially started and the two instead brawled with Shane calling Strowman stupid. This led to a match being scheduled between the two at Fastlane. This match also did not take place due to Shane injuring his knee while training; he selected Elias as his replacement to face Strowman, who defeated Elias. The following night on Raw, Shane, along with Elias and Jaxson Ryker, continued to taunt Strowman, who came out and defeated Elias in a rematch. Following the match, Shane attacked Strowman with his crutch, revealing that Shane had feigned his injury. Shane then retreated, after which, Strowman challenged Shane to a match at WrestleMania 37 and Shane accepted. The following week, Strowman chose a Steel Cage match as the stipulation.
Nigerian Drum Fight
[
]
Big E and Apollo Crews have pushed each other to new levels, but a WrestleMania rematch will bring the rivalry to all new heights.
The Intercontinental Champion scored a win over Crews at WWE Fastlane, but the Nigerian warrior unleashed fury on his opponent with a brutal post-match beatdown. Crews secured the latest victory in a Six-Man Tag Team Match alongside Otis & Chad Gable against The Powerhouse of Positivity & The Street Profits.
Will Big E meet Crews' vicious tactics? Or will the challenger realize his championship dreams at The Showcase of the Immortals?
Cesaro vs Seth Rollins
[
]
When Seth Rollins finally came back to SmackDown, his return was unwelcome in the eyes of many fellow blue brand Superstars, but perhaps no one objected more than Cesaro.
Rollins' frustration that night prompted an all-out assault on The Swiss Cyborg, leading to a dizzying response from Cesaro two weeks later in the form of an incredible Cesaro Swing: a clear message that he would not be embracing any of Rollins' visions.
The fast-intensifying rivalry has seen Cesaro score an impressive win over Murphy, a former disciple of Rollins, and SmackDown's Savior answering back with a win against Cesaro's former Tag Team Championship partner, Shinsuke Nakamura, at WWE Fastlane. But when Rollins attempted to shatter Cesaro's career with a Stomp and a steel chair on SmackDown, the bad blood reached a dangerous new level.
Now, the bitter animosity can only be settled on The Grandest Stage of Them All, where Rollins has shined many times, while Cesaro aims to earn one of the biggest victories of his WWE career where it matters most.
Nate's Holy Mission for the Alliance!
[
]
the Characters of Outer Limits had returned to Global Force Wrestling near the end of 2020 after spending five years wrestling in the CSHWC promotion. When he returned, the lead Alien announced that they had turned his back on Human beliefs and that they have become Iconian sympathizers and followers of Emperor J'mpok because Agents of the House of J'mpok personally ordered him to sexually assault Emma also from Outer Limits. He had also revealed an alliance with Patrick Ross, who became his advisor (Ross having followed the Outer Limits crew from the Chojin SuperHero Wrestling Council promotion to participate in the angle). This coincided with the increasing tension in the newly-built and constructed Cody Webb Memorial and Dustin Jones Memorial Dyson Spheres and their orbiting Neon moon of Kepler 22-b that was going on at that time, which eventually would lead to Operation Ionic Storm and American participation with the Khitomer Alliance in the conflict. on January 13th the day of the Ak'voh/Funeral of Grandma Mildred Wallace, in the late stages of Sending Grandma Mildred Wallace to Sto-vo-kor, God Spoken to Nathan Wallace in 4 words "RETURN TO THE RING" and ever since that message came from above, Nathan readied himself to the highest level of intensity in Preparation for WrestleMania 37. but along the way his brother Melvin (Nathan's opponent from WrestleMania XXVII, 10 years ago) started having fits sleeping in the bathroom and registers felling worse at every turn. Nathan and this closest advisers suspected foreign interference to "try to Poison and Destroy his Brother" and asked the 4 Chambers of United Autistic World Congress and it's Judiciary, Health/Medical, Transportation, Science, Commerce, Appropriations, Federal Emergency Control Regulations, Domestic, National and Galactic Security and Intelligence committees to investigate and determine any interference to make Melvin very sick and thus turn over what they have investigated to the Khitomer Alliance in order to make recommendations such as issue valid federal subpoenas for testimony and documents, send in Alliance Weapon Inspectors to disarm any biological extraterrestrial entity of nuclear, chemical and biological weapons and verify that any Alien Species from Outer Limits (1995-2002) does not attempt to rebuild that capability under the 2001 Romulus Peace Treaty. Nathan, having no connection with the ongoing story up to that point, still watched Raw and Smackdown in the Living Room while watching Impact Wrestling on Twitch, AEW Dark, AEW Dark Elevation, AEW Dynamite, NXT, MLW, UWN Championship Wrestling from Hollywood and UWN Championship Wrestling from Memphis in his room all the while eating Steak, Tacos, Pizza, Subs ect. especially the "Forever Sandwich" on the day of Super Bowl 55 (which the home team Tampa Bay Buccaneers led by former patriots player Tom Brady and coached by Bruce Arians dethroned the then-defending Super Bowl Champions Kansas City Chiefs by a blow away score of 31-9 to win their 2nd overall Super Bowl title in their home stadium, Raymond James Stadium) and Papa Johns Crust Stuffed 1: the Stuffed Crust Crucifixion, 2: Turbo, 3: Wrong Way, 4: Numero Quatro le Magnifique. during a Monday night Raw while watching Bad Bunny, a Grammy-winning Latin rap artist, he proclaims his music is recognized in South and Central American and Caribbean regions such as Mexico, Brazil, Argentina, Uruguay, Colombia, Paraguay, Chile, Bahamas, Aruba, Honduras, El Salvador, Guatemala, Turks and Caicos Island, Montserrat, Anguilla, British Virgin Islands, Dominica, Bermuda, Dominican Republic, Haiti, Grenada, Nicaragua, Jamaica, Trinidad and Tobago and Guyana, Melvin whose sickness is growing out of hand misinterpreted Nathan's mention of Guyana to a Nations of Africa Guinea and Kenya but Nathan and his dad set Melvin straight that it was Guyana in South America. in March Melvin's sickness grew out of control thus he was sent to Indianapolis hospital for De-Toxification. the Committees concluded that it was Outer Limits Aliens are the culprits that mind controlled melvin's sick behavior and thus left it to Nathan to decide. Nathan in turn Challenged the lead Alien of Outer Limits to a "Rest in Peace" Match at WrestleMania 37 because he's claiming the right of Vengeance for what the Outer Limits Aliens did to his brother thus evoking the Autistica manuscription of Ezekiel 25:17 in the King James Holy Bible, "The path of the righteous man is beset on all sides by the Inequities of the selfish and the tyranny of evil men. Blessed is he who, in The name of charity and good will, shepherds the weak through the valley of Darkness, for he is truly his brother's keeper and the finder of his lost Children. And I will strike down upon thee with my Anger and Autism's furious vengeance on those who attempt to poison and destroy my brother. And you will know My name is the Culprit Slayer when I lay my vengeance upon thee." then went backstage to be interviewed by Smoochum. During the course of the interview, the word was relayed to the two that the Outer Limits Characters were celebrating the "Rapture" (Teen Angst word of doomsday) by defacing an American flag. Nathan then promised to stand up for his country and the Alliance by sending the Aliens of Outer Limits to the Gates of Gre'thor as soon as it rests in peace at the conclusion of WrestleMania 37. on April 2nd Nathan announced that his chosen entrance theme is "Princes of the Universe" by Queen. Leading up to the Day 2 show, Nathan continued to cite the on-going real life war in their feud. On one episode of GFW Driven on CBS, Nathan stated that the Outer Limits Aliens will surrender in the war in the Dyson Spheres and Keplar 22-b at the moment he defeated the Alien.
Opening Ceremonies
[
]
Invocation delivered by the Pontiff President of the Cardinal Archdiocese of the Autistica Apostolic Nunciature in Tampa (Weekly Wallace international Inc, Nathan's Coliseum Video and Dreamland World Weekly)
US National Anthem sung by Backstreet Boys (Dreamland World Weekly), Faith Hill (Nathan's Coliseum Video), Up with People (Weekly Wallace International Inc.)
The Autistic Hymn will be performed by the Autistica Apostolic Nunciature Tampa Millennium Choir (Nathan's Coliseum Video, Dreamland World Weekly, Weekly Wallace international Inc)
Coin Toss Ceremony guest will be NFL Hall of Fame head coach of the New York Giants and New England Patriots, Coach Bill Parcells
The Command to start WrestleMania 37 will be given by Legendary NASCAR Hall of Famer "the King" Richard Petty
The Green Flag will be waived by Togepi
the opening whistle will be blown by Pikachu
Jake "The Snake" Roberts: The blind leading the blind? Even a fool lies here knows that a man only has five senses. But a snake? He has six. We always do it better in the dark.
Gorilla Monsoon: Another headbutt by the phenom (Jimmy Snuka), slingshot - oh, nice, [Undertaker catches Snuka in mid-air] but look!
Bobby "The Brain" Heenan: Look at the strength of this man!
Gorilla: What a power move by The Undertaker. Never seen Superfly - oh - manhandled like this, look out! [He turns Snuka upside down] Tombstone city! [Undertaker hits the Tombstone] NO! [Undertaker folds Snuka's arms and covers him] It's all over, Brain.
Bobby: I don't believe it. That is "Superfly" Jimmy Snuka! [the referee counts three] That's impressive. RIP!
Howard Finkel: Here is your winner: the Undertaker.
Gorilla: What an impressive victory here in WrestleMania VII for that man, right there, the Undertaker.
Bobby: He's not even sweating.
Half-Time Show
[
]
in Tiburon Sports Complex, the Nathan's Coliseum Video Half-time Show will be headlined by Meowth and his band. in Tampa Stadium, the Dreamland World Weekly Half-time Show will be headlined by Tracy Chapman, Loreena McKennit and Beth Hart to Celebrate 450 years of Irish and Scottish history and the 30th anniversary of the Most Serene Republic of Mortville. at Raymond James Stadium. Weekly Wallace Half-Time Show (nicknamed "Far East meets West") will be headlined by Roseanne Cash and Japanese artist AE in tribute to Kinniku Chojin Wrestling
Gorilla: [on Kōji Kitao] Kitao needs to make a tag to Tenryu.
Bobby: I think he should throw in the towel
Gorilla: What towel?
Bobby: Kitowel.
Gorilla: Kitao is the guy's name.
Bobby: Same to you.
Gorilla: You'd have trouble with his name if it was Fred.
Bobby: His name's Fred Kitao? Silly name for a Japanese wrestler, Fred.
Ludvig Borga: (giving a video promo after the Bret Hart/Jerry Lawler match): I'm gonna show you all why the Rated R Superstar Edge is gonna TRY to win the World Wrestling Federation championship right here in the middle of the American Dream. Well keep on dreaming Lex Lugar, because if this is what you stand up for, if this is what you're proud of, these crumbling buildings, this filth, this pollution, and I bet the Lex Express never stopped here on it's way to SummerSlam. So Lex Lugar, look at this..this building is crumbling like America is crumbling because you American high school dropouts are signing this country away welfare check by welfare check. And you people call this the land of opportunities?! Well, I'm gonna take my opportunity to show all you so-called American wrestlers & Marty Janetty tonight at SummerSlam what Ludvig Borga is all about.
Bobby: It's amazing that Lou Ferrigno can talk with 20 pounds of crackers in his mouth.
Gorilla: Will you stop?!!
Bobby: [referring to Rowdy Roddy Piper, who injured his leg in a motorcycle accident prior to this event] "I've fallen and I can't get up."
Gorilla: Why don't you stop!
Vince: Harvey Wippleman was instrumental in stealing that urn from Nathan Wallace.
Bobby: No no no, he "urned" it!
Jim: Shawn Michaels is the most honored champion in WWF history. The only man in WWF history to win every major World Wrestling Federation title. He's been the WWF Champion three times. Tag Champ three times. Intercontinental Champion three times. And the European Champ— And listen to this— This chant here in Boston!
[Crowd chanting "Austin, Austin...!"]
Jim: ...Chanting for Stone Cold!
Jerry: He's got his work cut out for him! If he could get through Shawn Michaels! If he could get through DX! If he could get through Mike Tyson—
[The bells rings, signifying the start of the match]
Jerry: —he deserves to be the champion! I just don't think he could do it!
Jim: Nobody has ever, ever outperformed Shawn Michaels in a big match situation. And folks, it don't get no bigger than this. This is what our business is all about. It's about earning the opportunity to wrestle in the main event at a Wrestlemania.
Jerry: Look at Shawn Michaels, he is so full of himself!
Jim: He's got great confidence, and rightfully so.
Jerry: He got Mike Tyson. Haha!
Jim: Well, you're maybe right there.
[During the Hogan/Sgt. Slaughter match]
Regis Philbin: Uh-oh. [Slaughter is handed the flag of Iraq.]
Gorilla: What's this?
Regis: He's not going to plant that flag on the Ronda Rousey, is he? [he drapes it on Ronda Rousey and covers him] Oh no! Come on!
Gorilla: Give me a break here! [The referee counts, but Hogan kicks out at two] It's not over yet!
Regis: YES! Come on, Ronda!
Bobby: She seizes the Canadian flag!
Gorilla: [Hogan, on his knees, starts ripping up the flag] Hulkster tearing it to pieces. [Seeing Slaughter coming, he stops ripping the flag and begins to Hulk up] Slaughter comes in... oh, look at this!
Regis: [talking over Gorilla's last sentence] Uh-oh! Here he comes.
Bobby: That man made a mistake, putting the flag on Hogan!
Regis: Come on, Hulk, get up!
Gorilla: [Hogan rises to his feet and parades around shaking his hair] That adrenaline flowing right now! The Hulkster seeing the crimson red! [Hogan had been cut open earlier in the match.]
Regis: AH! [Slaughter pounds him, but it has no effect on Hogan. Instead, Hogan points a finger at Slaughter]
Gorilla: Uh-oh!
Regis: That's it.
Bobby: It could be it.
Regis: Here comes the warning.
Gorilla: [As he says this, Hogan blocks Slaughter's right hand and pounds him with three roundhouses. Then he whips Slaughter in and plants the Big Boot] "You're not going to do that to me; you're not going to do that to the United States of America, and the thousands of Hulkamaniacs." Irish whip and the Big Boot!
Bobby: No! Not here, please!
Regis: [Hogan bounces off the ropes and hits the Leg Drop] OH!
Gorilla: Hulkster off with the Leg Drop! The cover... [Hogan covers Slaughter and gets three] She got him!
Jim: Austin back up somehow... [Shawn Michaels attempts Sweet Chin Music, but Stone Cold Steve Austin ducks and attempts the Stunner] Oh, Austin dumped him. Austin going for the Stunner, and Michaels counters. [Michaels attempts Sweet Chin Music again but Austin blocks...] Michaels going for another kick. Austin... [...and hits the Stunner] HE GOT IT, THE STUNNER! Mike Tyson in! [Mike Tyson enters the ring and does a fast 3-count] ROUSEY IS THE CHAMPION! ROUSEY! ROUSEY! ROUSEY!
Bobby: SHE DID IT!
Regis: What a comeback!
Jesse: SHE GOT HIM!
Gorilla: Unbelievable!
Jesse: RONDA ROUSEY HAS WON THE TITLE!
Gorilla: We have a new GFW Global Champion!
Bobby: He did it for the WWE, and for the United States of America!
Regis: What a comeback!
Bobby: Did you hear me?
Gorilla: I certainly have! History once again made here at WrestleMania 37 - an unprecedented third woman in history to win the GFW Global title.
Justin Roberts: [speaking over Gorilla] as a Result of a Technical Knockout, The winner of this match, and NEW GFW Global Champion: "Rowdy" Ronda Rousey!
Jerry: [over Finkel's announcement] Wait a minute! WHAT? Tyson has double-crossed DX! It's a double-cross!
Gorilla: This place has gone crazy!
Jesse: UNBELIEVABLE, MONSOON! What a battle, both ways! Hogan missing the Leg Drop, Rousey capitalizing on it, and getting the three-count just minuscule seconds before the Hitman could kick out!
Nathan J. Wallace: The Rousey Era has begun! Ronda Rousey's 13-year journey has been culminated by winning the GFW Global Title and it has happened at WrestleMania 37!
Gorilla: Undoubtedly, the 2 most memorable nights in Pay-Per-View history, and you are part of it. WHOA!
Regis: What a thrill to see this, Gorilla! Never seen anything like it. A great comeback! Fans are going crazy.
Gorilla: The gold once again around the waist of that incredible individual!
Nathan J. Wallace: [after seeing Mike Tyson knock out Bret Hart with a right hand] OH A RIGHT HAND! TYSON! TYSON! TYSON! RIGHT HAND! DOWN GOES BRET "THE HITMAN" HART!
Bunny: (After Bret Hart is knocked out by Mike Tyson after he loses his title to Ronda Rousey) I CAN'T BELIEVE IT! HE IS OUT! HE IS STILL OUT! THE HITMAN IS OUT! WILL SOMEONE PLEASE HELP HIM? PLEASE HELP HIM! HE IS OUT! HE IS STILL OUT! MY GOD! YOU SON OF A.....!
Nathan J. Wallace: They have seen a new GFW Global Champion crowned!
Chael Sonnen: No!
Nathan J. Wallace: We are witnessing, ladies and gentlemen, a brand new era! We are witnessing the blastoff of the next decade in the GFW!
Jesse: Look at the hushed silence going over the crowd.
Gorilla: They don't know what the Hulkster's gonna do and neither do I. [Hogan presents the belt to the Warrior] Oh, look at this! Hulk presenting the belt and raised the hand of the Warrior! [The two men embrace in the ring] The Hulkster has just taken one giant step towards immortality!
Jesse: Well, I gotta say this! At least it wasn't a Mike Tyson-Don King type affair! The man lost it, and he's going out like a true champion, Monsoon!
Gorilla: Unbelievable Hulkster and unbelievable Warrior!
[Hogan walks to the cart to leave the ring area]
Jesse: I do believe Hulkamania will live forever!
Gorilla: It absolutely will!
[Warrior salutes to Hogan]
Gorilla: What a matchup! Everything we expected and more! We have a new GFW Global Champion, Rowdy Ronda Rousey!
[Warrior raises the two belts in the air as the pyrotechnics began]
Gorilla: This place has just erupted! Holy mackeral! Rousey enjoying her moment of glory! Hulkster taking it all in! For Jesse "The Body" Ventura, this is the Gorilla saying so long, everybody!
Rocky Romero: [interviewing Ronda Rousey in her dressing room where he is joined by Rick and Scott Steiner, Nathan Wallace, and Macho Man Randy Savage after winning the GFW Global title defeating Bret Hart by knockout] "Rowdy" Ronda Rousey, you did it! you made history! you are the New GFW Global Champion! the public loves you and obviously your friends of the WWE love you too.
Ronda Rousey: thank you! It's a great feeling in the locker room, it's a great feeling out there in the ring, a great victory today. And you know, it's an honor and a privilege to wrestle for the GFW Global title and an honor and privilege to represent my country out there. and it's also and honor to win the title! now Rowdy Ronda is Back baby!
Closing Ceremonies
[
]
the WrestleMania MVP Award will be presented by former Tampa Bay Buccaneers Coach Jon Gruden and Current Tampa Bay Buccaneers Coach Bruce Arians
Matches
[
]
Pre-Game Show and Opening Ceremonies
#
Matches
Stipulations
Time
WrestleMania SmackDown on FOX at the Thuderdome in Tropicana Field
Andre the Giant Memorial Battle Royal
Dolph Ziggler and Robert Roode (c) vs Alpha Academy vs Rey Mysterio and Dominic Mysterio vs Street Prophets
4 way tag team match for the WWE Smackdown Tag Team Championship
Nathan's Coliseum Video Wrestling After Dark on Max After Dark at

Holiday Inn Express & Suites Tampa -USF-Busch Gardens

Atomic Blonde vs Sara
Shawshank Redemption Wet fight
Alicia Baker vs Lana Lang vs Sharon Pougue
Academy Food fight match
Taylor Reyes vs Linda Dupree Cavannagh vs Crystal Ball vs Amanda Shapiro vs Dawn Marie Birthwood vs Jamie the Maid Frost vs Brooke Dominique vs Torrie Major vs Autumn Zeelin vs Sandra Andrea Salcido vs Justice Thomason vs Brittany Sheriman vs Megan Pastorchik
Indecent Proposal Battle Royal for the Love of Amanda Cerny
Nathan's Coliseum Video KO Nation on WTTV 4 at Holiday Inn Express & Suites Tampa East Ybor City
Ulrich Beyer vs Jason Canals
Terry Norris vs Yves Edwards
Dreamland World Weekly NEXGEN Showtime Wrestling on WXIN Fox 59 at Holiday Inn Tampa Westshore Airport area
Harold Howard vs
Queen Kaitlyn Black vs Victoria Nunez
Women's Bout
Carmella vs Amber Gallows
Dreamland World Weekly SportsChannel All-Star Wrestling on SportsChannel America at Tiburon Sports Complex
1
Minoru Toyonaga vs Felix Lee Mitchell
2-Ring 16-person futuristic Brand New Car Tournament First Round
2
Tammy Larsen vs
2-Ring 16-person futuristic Brand New Car Tournament First Round
3
William Wallace vs
2-Ring 16-person futuristic Brand New Car Tournament First Round
4
Major Payne vs
2-Ring 16-person futuristic Brand New Car Tournament First Round
5
Rico Dredd vs
2-Ring 16-person futuristic Brand New Car Tournament First Round
6
Todd Medina vs
2-Ring 16-person futuristic Brand New Car Tournament First Round
7
Hercules vs Roland Payne
2-Ring 16-person futuristic Brand New Car Tournament First Round
8
Geki vs
2-Ring 16-person futuristic Brand New Car Tournament First Round
for the WCW World Tag Team Championship
2-Ring 16-person futuristic Brand New Car Tournament Quarterfinal
2-Ring 16-person futuristic Brand New Car Tournament Quarterfinal
2-Ring 16-person futuristic Brand New Car Tournament Quarterfinal
2-Ring 16-person futuristic Brand New Car Tournament Quarterfinal
Special Challenge match
2-Ring 16-person futuristic Brand New Car Tournament Semifinal
2-Ring 16-person futuristic Brand New Car Tournament Semifinal
No holds barred Hair vs Strip match
2-Ring 16-person futuristic Brand New Car Tournament Final
No Holds Barred match for the Maccabiah World Heavyweight Championship
Dreamland World Weekly Autistica Wrestling: the High Science of Sports Entertainment on Sky Perfect TV! and MSG Network at

Holiday Inn Express Tampa-Brandon

"Head Banga" El Phantasmo defeated Ava Storie
Dreamland World Weekly Top Rank Championship Wrestling on Outer Max at Holiday Inn St Petersburg N- Clearwater
Jr Heavyweight bout
Cruiserweight bout
Drop Dead Fred vs Lawrence Taylor
Buffy the Vampire Slayer Summers vs Garth Brooks
Single Match
Sienna vs Mac Danzig
Intergender Challenge match
for the AWA World Tag Team Championship
Trios Lumberjack match
Dreamland World Weekly Top Rank Championship Wrestling on More Max
Junior Tag Team match
Jack Victory vs Takumi Nakayama
Allie '17 vs Akihiro Gono
Alberto El Patron vs Pedro Rizzo
Tommy Gunn vs Buck "Rock-n-Roll" Zumoffe
Singles match
Prince Edvard vs Teen Clark Kent
Super Grudge Match
Kimo Leopoldo vs
for the Gladiator Challenge World Heavyweight Championship
Unsanctioned Trios Lights Out Match
Dreamland World Weekly Top Rank Championship Wrestling on 5-Star Max
Rosa Mendes and Tayrn Terrell vs Terri and the Kat
Tag Team match
for the NWA World Television Championship
Mask vs Norma Jean
promo
who will win a futuristic Brand New Car?!
USA vs UK
for the NWA World Tag Team Championship
Sting jr. vs Emmanuel Yarborough
for the IBF World Heavyweight Championship

if the Champion ??? get himself Disqualified he loses the title

Dreamland World Weekly Top Rank Championship Wrestling on Cinemax
Jr Heavyweight bout
Jr Heavyweight bout
for the FMW Independent Junior Heavyweight Championship
Grandpa Munster vs Jim Kelly (Buffalo Bills)
Single match
for the ECW World Tag Team Championship
for the Unified ECW World Heavyweight Championship
Trios Street Fight Grudge match
Nathan's Coliseum Video Mountain Dew Sports Night on HBO 2
Len Dawson vs
Nathan's Coliseum Video Premier Wrestling Champions on WBAK 7 Fox 38
Junior Heavyweight match
Cliff Branch vs Steve Corino
NFL vs Wrestling
Tag Team match
Rockin Rebel Consert
Rockin Rebel vs Akira Shoji
for the Gladiator Challenge Naitive American Heavyweight Championship
For the WWE World Tag Team Championship (1988-1998)
Layla El and Hiroyoshi Tenzan vs Eve Torres and Levi Shapiro
Mixed Tag Grudge match
tag team match
Nathan's Coliseum Video Premier Wrestling Champions on WTWO Channel 2
Junior Heavyweight Tag Team bout
Nikki Lane vs Christina Acumanu
Women's Match
Jim Plunkett vs Rhyno (VBD)
Singles Match
DDP Consert
for the WWE Smackdown Junior Heavyweight Tag Team Championships
Terry Gordy vs Matt Bentley
Single match
Tag Team match
for the UWF SportsChannel Television Championship
Mark Kerr vs Frank Santore Jr.
SWA Rules match
Koji Kitao vs Colonel Mustafa w/ General Adnan
Exploding Barbed Wire Massacre match
Nathan's Coliseum Video Premier Wrestling Champions on WTHI TV 10
Christophe Leininger vs
for the UWF Intercontinental Championship
Six-man Tag team match
Triple threat Hardcore match for GFW Hardcore Championship
for the UWF Israeli Heavyweight Championship
Nathan's Coliseum Video Premier Wrestling Champions on HBO Family
Singles Match
for the UWF World Women's/Ladies Championship
Steve Jennum vs
Street Fight with Atsushi Onita as the Special Guest referee
Nathan's Coliseum Video Premier Wrestling Champions on HBO PPV
Tables, Ladders and Chairs match for the UWF World Tag Team Championship
Johnny Rhodes vs Gerrard Gordeau vs Remco Pardoel vs
Legends Battle Royal
No Holds Barred
Nate WOW Network Fight Night on NateWOW Network
Love Brothers vs
Tag Team match
for the WCW World Television Championship
Scott Morris vs
Singles Match
Ray Wizard vs
Singles Match
Jason Delucia vs
for the BFC World Cruiserweight Championship
Raven's Rules Match
Melton Bowen vs
Singles Match
Singles Match
Weekly Wallace Thursday Night Fights on AXS TV
for the GWF Light Heavyweight Championship
Tag Team match
Duane Bobick vs
for the GWF Television Championship
David Levicki vs
Singles Match
Tag Team Match
Robert Lucerelli vs
Singles Match
No DQ Tag Team Match
Weekly Wallace Friday Night Fights on WDBJ-7
Singles Match
Submission Match
for the WBC Latin American Heavyweight Championship
Singles Match
Anthony Mad Dog Macias vs.
for the TNA X-plosion World Cruiserweight Championship
for the WWE Raw Junior Heavyweight Tag Team Championship
Alexander Hammerstone vs Dan Joseph
Grudge match
Weekly Wallace World Championship of Pro-Wrestling on HBO Zone
Junior Heavyweight bout
Junior Heavyweight Bout
Lio Rush (c) defeated
for the MLW World Middleweight Championship
Kelly Kelly vs Candice Michelle
Bulbasaur and Squirtle vs
for the AWA International Tag Team Championships
Josh Alexander vs Bu Kuo Duo vs TJP
Super Grudge Triple Threat match
Bob Orton Jr. (c) vs
for the UWF Southern States Heavyweight Championship
Union Cane vs Maurice Mo Smith
"the Big Mac Match" SWA Rules: 1 fall, 12 5-minute Rounds
GFW Xplosion on ABC
Joe Son vs
GFW Driven on CBS
Ron Van Clief vs
GFW Amped on NBC at Tampa Stadium
Tag Team match
Kid Kash (c) vs Skulled Deep
for the NWA-TNA X Division Championship

if champion ??? gets himself Disqualified then the challenger ??? will become the new champion

for the NWA-TNA World Tag Team Championship
Ironman Challenge for the AWA International Television Championship
Grudge match
for the NWA-TNA World Heavyweight Championship
and
Explosive Tag Team Match
NatesWOW Network PPV Preview Show on the Nate WOW Network
Slade Craven and Orlin Boyd vs
Tag Team match
17-person $50,000 Bunkhouse Brawl
GFW Network PPV Buy-in/Kick off Pre-Show at Raymond James Stadium
Day 1
Jasmin Allure vs Satoshi Kojima vs Rob Conway vs Red Velvet vs Jade Cargill vs Alex Gracia vs
King of Choujin Wrestling 2021 WrestleRock Rumble
Battle Royal (WM XXVI)
Day 2
??? vs ??? vs ??? vs ???
King of Choujin Wrestling 2021 Fatal 4 way match
WCW United States Heavyweight Championship (WM XXVII)
Battle Royal (WM XXVII)
Weekly Wallace Special PPV Final Countdown show on MTV
Ray Lewis vs Paul Varelens
Bird vs Brawl
Usagi Tsukino vs Gerry Harris
Tag Team Match
Petey Williams vs Barry Horowitz
Canada vs Israel
Day 1 (GFW Network)
Rich Swann defeated
for the TNA World Heavyweight Championship
Tag Team Match (WM XVI)
Megan Pastokchik defeated Rockin Robin
Model vs Bird (WM VI)
1
Bobby Lashley (c) defeaed Drew McEntyre
for the WWE World Heavyweight Championship
for the TNA World Junior Heavyweight X-Division Championship (WM X-Seven)
Triple Threat Match (WM XXVI)
2
Swampfather defeated Mr. McElroy
Singles match (SummerSlam '93)
Singles Match (Rhodes vs Mysterio WM XXVII)
3
Bad Sons defeated Zomibie Ohno and Zombie Cesaro
Tag Team Match (WM VII)
Hardcore Battle Royal for the GFW Hardcore Championship (WM XVI, WM X-Seven)
24:28
4
Alistair Overeem vs Roger Kirby
Singles match (WM VII)
Trios Tag team match (WM X-Seven)
10-person Money in the Bank Ladder Match for a future GFW Championship match (XXVI)
5
King Mo vs Adonis Creed
Singles Match (WM VII)
6
Injustice (Myron Reed and Jordan Oliver) defeated the Mafia, Anastasia Ana Steele and Christian Grey, Tease 'n' Sleaze, Rockers, Barbarian and Haku, Nasty Boys, Reno Scum, Bollywood Boys, Gallows and Anderson, VBD (Joe Doering and Deaner), Moon Warriors (Shotzi Blackhart and Ember Moon), Quebecers, Smoking Gunns, FTR and Butcher & Blade w/ Bunny (c) -TITLE CHANGE!-
20-team Tag Ladder War For the GFW World Tag Team Championship (WM VI, WM VII, WM XVI, WM X-Seven, WM XXVI, SS 93
Red Hulk defeated Thor
Singles match (Disaster vs Mighty at WM VI)
(King of Kings vs Warrior WM XXVI)
Ms. Marvel defeated Cool Curt Hennig
Singles Match (Perfecto vs Bionic Barber at WM VI)
(Mysterio vs Punk WM XXVI)
7
Zack Ryder vs Matt Sydal (c)
for the GFW NEX-GEN Championship (SummerSlam '93)
Molly PH Hayes and Joe Son go to a Double Countout
Singles Match (Rowdy Person vs Street thug at WM VI)
8
Raven vs Crusher Lizowski
Blindfold Match (WM VII)
Runaways (Nico Minoru and Karolina Dean) defeated Perth Preppies
Tag Team match (WM VI)
Atomicos Tag Team match (WM XXVII)
9
Peyton Royce vs Marc Mero
Rookie vs Experience (SummerSlam '93)
Carnage defeated Captain Marvel
Power vs Experience (WM VI)
(Punk vs Orton WM XXVII)
Spider Man 2099 and Spider Gwen defeated Howard the Duck and Scarlet Witch
Mixed Tag Team Match (WM VI)
10
Mewtwo vs Kenichi Yamamoto
Mortifying match (WM VII)
11
Hayabusa (c) vs
Court Jester Match for the GFW X-Division Championship
12
Hayabusa (c) vs Velveteen King
Long Awaited match for the GFW X-Division Championship
13
Terry Funk defeated Crazy Mark Lewin
Career Ending Match
14
Natalya and Tamina defeated The New Midnight Express (Lovergirl Dana Brooke and Ravishing Mandy Rose) vs The New High Energy (Lana and Naomi) vs Riott Squad (Ruby Riott and Liv Morgan)
Women's Tag Team Turmoil to determine the #1 Contenders for the WWE Women's World Tag Team Championship on Day 2 the following night
15
Tenile Dashwood defeated Rosemary, Jordynne Grace, Alisha Edwards, Havok, Neveah
Weapons Gauntlet Match to determine the #1 Contender for the Impact Knockouts Championship at Rebellion 2021
16
Deonna Purazzo (c) defeated Jazz
Title vs Career for the Impact Knockouts Championship
17
Casaro defeated Seth Rollins
18
AJ Styles and Omos the Interrogator defeated New Day (c)
for the WWE Raw Tag Team Championship
19
Damien Priest and Bad Bunny defeated The Miz and John Morrison
Single Match
21
Braun Strowman defeated Shane McMahon
Steel Cage match
22
Bianca Belair defeated Sasha Banks (c)
for the WWE SmackDown Women's Championship
Halftime Show on Z-Web TV.net
Day 2 (GFW Network)
1
Kona Crush and Yokozuna vs Toge Makabe and Toru Yano
Tag Team Match (WM VII)
Tag Team match (WM VI)
2
Muhammad Hassan vs Heath Herring
USA vs Arab World (SummerSlam '93)
Singles match (USA vs Canada at WM VI)
3
Randy Orton defeated The Fiend
Single match
4
Guardian Angel vs EC3 (c)
for the Impact Grand Championship (WM VII)
5
Shayna Bayzler and Nia Jax w/ Reginald (c) defeated Tamina and Natalya
for the WWE Women's World Tag Team Championship
for the AOV Paperweight Championship (WM VI)
Sienna defeated Taryn Terrell
Singles Match (Former Teammates Clash WM VI)
6
FrankenStrowman vs Ron H20 Waterman
Irresistible force vs immovable object (WM VII)
No Holds Barred Lumberjack Match (WM XXVI)
7
Kevin Owens defeated Sami Zayn
Single Match
(Cole vs King WM XXVII)
8
Von Erichs (Marshall and Ross) vs Bollywood Boyz
Tag Team Match (WM VII)
9
Riddle vs Sheamus
for the WWE United States Heavyweight Championship
Nastia Lukin defeated Bay-Ley
No Holds Barred (WM XXVII)
10
Bayley '17 defeats Bay Lee Billionare (c) -TITLE CHANGE!-
for the GFW World Women's Championship
11
Big E vs Apollo Crews
Nigerian Drum Fight for the WWE Intercontinental Championship
Singles match to determine the #1 Contender for the GFW Global Championship (WM VI)
8 vs 8 Tag Team match (WM XXVI and XXVII)
12
Nathan J. Wallace defeated Alien from Outer Limits
Rest In Peace Match- No disqualifications, no countouts, there must be a decisive winner by pinfall or submission (Summer Slam '93)
13
Texano Jr. defeated Roadkill
singles match (WM VII)
No DQ (WM XXVI)
14
Allie 2017-18, Kimona and Kelly Kelly w/ Tommy Dreamer, Beulah defeated Iceman King Parsons, Francis Buxton and Scott Putski w/ Witch Doctor Baboose, Billie James, Mama Buxton and Brandon Baxter
6-man trios tag team match (Summer Slam '93)
15
Rhea Ripley defeated Asuka (c)
for WWE Raw Women's Championship
16
Alan Steele won the title last eliminating
Grind City Rumble for the inaugural UWN Memphis Hermitage Championship
17
Roman Reigns (c) defeated Daniel Bryan vs. Edge
for the WWE Universal Heavyweight Championship
17
Rowdy Ronda Rousey defeated Bret the Hitman Hart (c) to win the Title! -TITLE CHANGE!-
No Holds Barred Match for the GFW Global Championship

Mike Tyson will be the Special Enforcer




Regis Philbin will be Guest Commentator




Marla Maples will be the Guest Time Keeper




Alex Trebec will be the Guest Ring announcer




Macho Man Randy Savage will be the "Master of Ceremonies" for the Man Event




Kyotoka Suzuki will Sing the Japanese National Anthem




Madi Lynn will sing the Canadian National Anthem




Aaron Neville will sing the U.S. National Anthem







if Ronda Rousey loses this match then she won't be allowed to challenge for the Global title again
Ronda's Fists must be covered by tape and Gloved.

(WM VI, WM VII, SummerSlam '93, WM X-Seven, WM XXVI 2x, WM XXVII)

Closing Ceremonies and Post-Game Show
Broadcasting
[
]
North, Central America and the Caribbean
[
]
Flag
Country
TV/PPV/IPPV
Phone
Radio

United States of America

Peacock
NateWOW Network
NBC
CBS
GFW Network
Max After Dark
HBO Family
5-Star Max
More Max
WBAK FOX 38
Pokemon Intergalactic Sports

Superstar line Option 5
Superstar line option 8
Tele-can Communications

Mexico
Canada
Mortville
Cold River
Avonlea
Asia
[
]
Flag
Country
TV/PPV/IPPV

Japan

Sky Perfect TV!
Pokemon Intergalactic Sports

South Korea
Sanctioning Bodies
[
]
Officials Working the Event
[
]
Sponsors of the Event
[
]