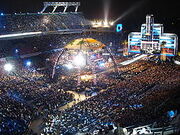 the 2nd phase of south vermillion's vietnam war began when south vermillion supported the CCPE in the 6/11
attacks
. Nathan J. Wallace and leaders of IAR, UAAG, GAI, NATO and the United Nations then called for the establishment of an international and intergalactic military coalition. their overall objective is to eject the sv revolution from thousand trails to force SV to the negotiation table. SV's abuja roasts was the controversial part of this war it reads everything that SV's revolutionary leaders says. it arrogantly refused peace talks and refused to pull it's forces out of thousand trails, expels diplomats from certain states and countries and executed those who disobeyed the SV regime. as a result of SV's
unprovoked
attack on the
citrus
bowl and
wrestlemania
XXIV, the
United
Nations in conjunction with the
United
world of schools and collages gave south vermillion until
election
day 2008 to withdraw from all illegally occupied territories otherwise the coalition will use 'all necessary means'.
invasion of thousand trails
Edit
establishment of a new regime
Edit
6/11 attacks the the United Nations and NATO intervenes
Edit
Great Autistic War and the Autistic War of 2007
Edit
Middle School dilemma
Edit
2007 FIFA Womens World Cup in China PR
Edit
England eliminated from Euro 2008!
Edit
Bud dies the flood gates open.
Edit
the Wallace Alliance was formed.
Edit
Juntao storms
Edit
South Vermillion predicts British Invasion of America after Super Bowl XLII
Edit
sanctions against South Vermillion
Edit
WrestleMania XXIV and the aftermath
Edit